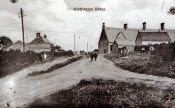 Widdrington is a village, township and parish in southeast Northumberland. It lies 10 kilometres (6 miles) north east of Morpeth.
Although now a parish in its own right Widdrington was originally a chapelry of the parish of Woodhorn. In 1768 it was given parochial status. The church was built in the 14th century. It was restored during the Reformation and again in 1874. The church was enlarged at the second restoration to seat 280 members of the congregation. It is dedicated to the Holy Trinity. A Presbyterian church was built at Widdrington in 1765. A Primitive Methodist chapel was erected at Widdrington Colliery in 1894.
The Widdrington family who took their name from the village originally owned Widdrington. The family were strong supporters of the Stuart cause. William, third Lord Widdrington, supported the Earl of Derwentwater in his attempt to depose George I. As a consequence of this the Widdrington estates were confiscated by the Crown and were sold to Sir George Revel. The estate then passed via marriage to Sir George Warren and then to Lord Vernon.
The Widdrington family built a castle in the village in the 14th century. By the end of the 18th century it had fallen into disrepair but was rebuilt by Sir George Warren. Before this was completed it was destroyed by fire. A new building was put up on the site but with the exception of the tower, this was demolished in 1868. The stone from the building was then used to build the new vicarage.
The area was an agricultural one. A colliery managed by the Widdrington Coal Company was sunk about a mile from the village in 1868. In 1887 it employed 260 men and boys. The Coal Company provided a Mechanics' Institute and a school for its employees.