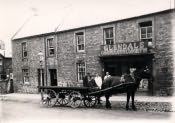 Situated only 6 miles east from the foot of Cheviot is the town of Wooler, an ancient market town and parish. It is 46 miles north-northwest of Newcastle and only 16 miles from Berwick, in Glendale, well known for its picturesque scenery of rolling hills and glens.
Wooler is the only market town in Glendale, which was one of the Northumberland baronies created after the Norman conquest. It was given to Robert de Musco Campo, or Muschampe, by Henry I in the twelfth century. This family died out eventually, and the lands around Wooler changed hands many times; it came to the Grey family of Milfield, which included Josephine Grey, later Butler, a woman who championed improving the lives of women in the Victorian era. The Greys passed the lands to the Earls of Tankerville, who are still the principal landowners in the area.
Nearby Humbleton Hill and the field beneath it was the scene of a famous battle in 1402, known as Homildon Hill. It was between the Scots, under the Earl of Douglas, and the English, led by Sir Henry 'Hotspur' Percy along with the Earl of March. Hotspur's archers played an important part in winning the battle, and there have over the centuries been discoveries made of coffins and skeletons in the field where the battle took place.
The town was burned down in 1722, and rebuilt to a better standard. By 1821 Wooler contained a population of 1830 people and 315 houses, and held weekly markets for the sale of grains, especially corn. There were also two annual markets held for the sale of sheep, horses and cattle. The surrounding area was at that time mostly agricultural, as it is today, with sheep farming carrying out an important role.
Today Wooler is a town nestled near to the Cheviot Hills, and because of its location is popular with campers and walkers alike. The summer months see the town's High Street become a bustling scene of local residents and visitors. Each July the town holds its Glendale festival, with a programme of events spread over the weekend.