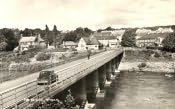 Wylam is situated in the Tyne Valley within The county of Northumberland. It lies approximately 13 kilometres (8 miles) to the west of Newcastle upon Tyne.
The earliest reference to Wylam is in a record of 1158 that records that the settlement belonged to the Priory at Tynemouth. It is thought that Guy de Baliol, Lord of Bywell, gave Wylam to the Priory in 1085. The Priors of Tynemouth held lands in the village until the dissolution of the monasteries in the 16th century.
The Blackett family have had a long association with the village. In 1685 John Blackett bought two farms at Wylam. These farms formed a modest estate and residence for the Blackett family until the third quarter of the twentieth century. The Blackett family also acquired the Lordship of the Manor of Wylam. The Lordship also included mineral rights within the township. This allowed the family to develop the colliery and further increase their prosperity.
An article in The Newcastle Courant of 17 January 1874 entitled 'Our Colliery Villages' paints an unattractive image of the village - 'Wylam is the very worst colliery village that we have yet beheld …'. The colliery has an important place in the history of the development of the locomotive. It is thought that the Wylam waggonway was opened in 1748 and was therefore one of the earliest waggonways in the north of England. The waggonway linked the colliery to the staiths at Lemington from where the coal was taken down The River Tyne on flat bottomed boats called keels to be loaded on the large coal ships further down the river.
Several famous engineers have also had links with the village. George Stephenson was born at a small cottage at Wylam in June 1781. Timothy Hackworth's father was foreman blacksmith at the colliery and his son was born in the village in December 1786. Hackworth together with William Hedley and Jonathan Forster were involved in the development of the locomotive engine at the colliery. Perhaps the most famous of the engines to be developed was The Puffing Billy, which is now housed at The Science Museum in London.
The late eighteenth century was a period of prosperity for the village - the colliery was thriving and an ironworks, a leadshot manufactury and a brewery were all established in the village. In 1864 the ironworks closed. Four years later the colliery was closed. The brewery ceased to operate sometime in the 1870's. This decline in the industry led to a change in the character of the village. By the 20th century the village was almost entirely a residential settlement.
Wylam is now an attractive commuter village with a recorded population of 2037 in 1991.