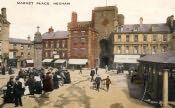 Hexham is a the largest town in West Northumberland situated on the A69 main Newcastle to Carlisle road 20 miles west of Newcastle standing on the banks of the river Tyne. It is a very ancient ecclesiastical parish in its own right.
There has been a settlement there since Saxon times and there are many ancient spellings of the town's name including Hutoldesham, Hestoldesham, Hextoldesham and Halgutstad. One interpretation is that the names refer to the tributaries to the Tyne which run through the town.
Until 1571, Hexham was head of an ancient shire which was a regality, county palatinate and diocese. In this year, by Act of Parliament the shire was incorporated into the County of Northumberland and became an ecclesiastical peculiar of the Diocese of York. The term Hexhamshire is still used to refer to the area comprising the parishes of Hexham, Allendale and St John Lee.
The building of the Benedictine Abbey and church, was begun by Wilfrid Bishop of York in 674. After being destroyed by the Danes. It was re-founded in 1113 as a monastery for Augustinian Canons. The church of St Andrew although it has Saxon origins was also rebuilt in the 12th century.
Until the accession of James VI of Scotland to the throne of England the English border was governed by Wardens appointed to maintain law and order. The border was divided into three marches and Hexham was the headquarters of the Middle March. It also boasts the oldest purpose built gaol in the country.
Hexham's most notable industry was the manufacture of tan, leather goods particularly gloves. AB Wright in his 1823 history of Hexham gives the following statistics.
People employed in the leather trade 1111,
Raw skins dressed annually 80000
Skins of dressed leather imported annually 18000
Pairs of gloves annually made and exported 23504 dozens
The railway came to Hexham in the 1830s with the building of the Newcastle to Carlisle railway. This replaced a scheme to build a canal between the two towns.
In 1801 the population was 3427 and by 1851 this had risen by two thirds to 5321.
Today the town is a thriving community with a wide range of facilities. It is very popular with tourists and has recently been awarded almost £1 million to restore some historic buildings including Old Gaol (now a museum) and to develop the facilities.