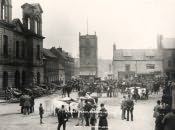 Morpeth is an ancient market town situated in the loop of the river Wansbeck. It is located 14 miles north of the city of Newcastle and approximately 12 miles west from the sea at Cambois.
Thought to have been a small village before the Norman invasion, Morpeth became a place of great importance when the lordship was granted by William the Conqueror to one of his followers, William de Merlay, who is reputed to have later founded Morpeth Castle. The castle was built of timber in 1095 and later destroyed. In the 12th century the castle was transferred to its present site. All that remains today is the gatehouse, which has been restored by the Landmark Trust and now used as a holiday home. The descendants of William de Merlay continued to govern Morpeth until it passed through marriage to the Greystoke family in the 13th century. The barony was transferred to the Dacres in the 15th century by the marriage of Elizabeth, daughter of Ralph 7th Baron Greystoke, to Thomas 2nd Baron Dacre. In 1577 Elizabeth Dacre married Lord William Howard, consequently passing the possession of the Castle, barony, manor and lordships of Morpeth, to that family. It was their great-grandson, Charles Howard, who was created the Earl of Carlisle in 1661. The Earls of Carlisle continued as lords of the manor of Morpeth, and owners of the castle, until their family estates were broken up in the early part of the 20th century.
There are several landmarks in Morpeth town centre, the most notable being the Town Hall, which was erected in 1869-70 from the plans of architect R Johnson. It replaces a former building built in 1714 and designed by Sir john Vanbrugh, the façade being an exact reproduction of the original. The clock tower, which stands nearby at the entrance to Oldgate, is a rare example of a freestanding bell tower. Originally built as a jail, the tower contains a clock which is reputed to be a very old one bought from Bothal Castle. For many years it had only one pointer. The curfew bell still sounds at 8 o'clock each evening. Another prominent landmark in Morpeth is the Court House, which was designed by John Dobson and in built in 1820-28. The Court House, which was used to hold petty sessions and house chief constables' offices, is now used as an apartment block and fitness centre.
Today Morpeth, with a population of 16,000, is one of Northumberland's major market towns and the administrative centre for the County Council. The County Council, along with the pharmaceutical manufacturers Pharmacia, is the major employer in the town. Morpeth boasts many riverside walks which link to Carlisle Park, a leisure centre, and a good range of shops, restaurants and hotels. A weekly market is held on Wednesday and a farmers' market on the first Saturday of each month.