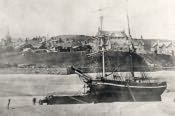 Alnmouth village is located in mid-Northumberland on the coast of the North Sea at the mouth of the Aln river. It is perched on a tongue of land formed by the sea and the river. The village lies some 4 ½ miles southeast of the town of Alnwick, and one mile from the local railway station. It has a long history, at times rather colourful.
The village is supposed to have been established by de Vesci, the owner of Alnwick Castle, around 1150. The Normans laid out the town in the twelfth century, and it quickly began to prosper, to the extent that in 1207 Alnmouth was granted a charter for a port and a market. It was recognized as the most important medieval seaport between the rivers Tyne and Tweed. Alnmouth endured more than 300 years of border raids, but still prospered; the seventeenth and eighteenth centuries saw the village at its pinnacle.
A small amount of shipbuilding took place here; the first vessel built weighed 300 tons and was launched on May 13th 1763. Ten ships were noted as being owned by the port. One of the main exports was grain; many of the granaries still stand today, converted to private housing. The 1750s saw the construction of the turnpike or "corn" road, from Hexham to Alnmouth, which meant much-improved transport of produce to the port. A good deal of the cargo shipped between London and Alnmouth was for the merchants of Alnwick. Smuggling was a part of life here; and was noted by one visitor as carried out "with much boldness and success". John Wesley visited in the 1740s, and declared the village to be a wicked place. This livelihood declined, however, with the coming of the customs house.
In 1806 a terrible storm blew up, and the river broke its course, creating a new course and cutting off Church Hill from the rest of the village. This new course was not as deep, making life difficult for ships to anchor, and the port declined over time. The coming of the railway sounded the deathknell for Alnmouth as a harbour, but instead brought visitors to enjoy the quiet picturesque seaside village. In 1864 the Duchess' Bridge was built, paid largely by Eleanor, fourth Duchess of Northumberland, providing a new way into Alnmouth. It was constructed as part of the road connecting the village to the railway station.
Today Alnmouth is a very popular seaside place to visit. Local people make use of its beautiful beach year-round; visitors come especially in the summer months to enjoy this tranquil part of the county.