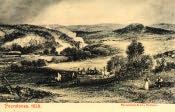 Fourstones is a hamlet in west Northumberland 3 miles north west of Hexham lying between the A69 main Newcastle to Carlisle road and the B6318 'Military road'. It is part of the ecclesiastical parish of Warden which is situated on the junction of the Rivers North and South Tyne.
The place name is recorded from the 13th century and is believed to refer to four boundary stones which are said to be Roman Altars. Interestingly one of these boundary stones was used by the leaders of the 1715 Jacobite rising to hide secret correspondence.
In more recent centuries, the railway came to Fourstones in the 1830s with the building of the Newcastle to Carlisle railway.
In 1801 the population of Warden was 349 and by 1851 this had risen to 646. This was probably due to increase in coal mining in the area.
The increase in the 19th century population can be said to be due to the coming of the railway and the industry that subsequently sprang up which included mining and quarrying. Fourstones was the location of the largest wytherite mine in the country and the sandstone quarried in the area was of high quality and shipped as far a field as London.