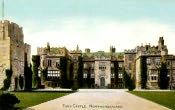 ¬
Ford is a small village in north Northumberland. It lies approximately 10.5 kilometres (6.5 miles) north west of Wooler, which in turn lies approximately 32 kilometres (20 miles) south of Berwick upon Tweed.
A family named Ford owned the Ford estate in the medieval period. It then passed to the Carr family who held the estate until 1536 when it passed to Elizabeth Heron, granddaughter of William Heron. Elizabeth went on to marry Thomas Carr of Etal and the estate passed to the Carr family. In 1660 Thomas Carr was murdered by his stepfather, John Ratcliffe of Alnwick, and the estate passed to Thomas' three sisters. In 1662 one of the sisters, Elizabeth, married Sir Francis Blake. Sir Francis went on to buy up the shares of the two remaining sisters and by 1685 he owned all of the estate. Sir Francis died in 1717 and the estate then passed to his grandson, Francis Delaval of Seaton Delaval. The estate remained with the Delaval family until the death of John, Lord Delaval in 1808. Following the death of John's widow, Susanna, in 1822, the estate passed to her granddaughter Susannah, Marchioness of Waterford. In 1832 the estate comprised 7145 acres and was valued at £9579 12s 7d. The estate remained with the Waterford family until 1907 when it was sold to the Joicey family who own the estate today.
The centrepiece of the estate is Ford Castle. It is believed to have been built or rebuilt by Sir William Heron in 1287. Because of its close proximity to Scotland the Castle suffered frequent attacks by the Scots. It is known that James IV of Scotland stayed here prior to the Battle of Flodden in 1513. The Castle was completely rebuilt by Sir John Hussey Delaval between 1761 and 1764. It was completely restored by Louisa, Marchioness of Waterford, between 1861 and 1863. During WW2 the Castle was used by the Red Cross as a convalescent hospital. In recent years Northumberland County Council has leased the Castle for use as an educational establishment.
Another feature in the village is the Lady Waterford Hall. The Hall was built in 1860 to be used as a school. Louisa, Marchioness of Waterford had a strong interest in the school. She financed the building and between 1861 and 1883 painted a series of murals that can still be seen in the Hall. The school closed in 1957 but the Hall remains open for public viewing.
Ford is an ancient parish. The parish church, dedicated to St. Michael was originally built in the 13th century. In 1853 it was remodelled by the well known Newcastle architect John Dobson. One of the Rectors of Ford, Hastings Neville, is well-known as the author of a book, A Corner In The North. This provides an account of life in Ford and the surrounding area at the beginning of the twentieth century.