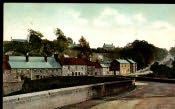 Felton village is situated on the fertile Northumbrian coastal plain, in the middle section of the county, 10 miles north of Morpeth and 9 ½ miles south of Alnwick. It is known as rich and cultivated country, possessing as it does a light soil with a subsoil of loam and sand. The village lies on the north side of the Coquet river; there is a handsome bridge with three arches spanning the river at the village's southern end.
In ancient times Felton lay within the barony of Mitford, and was in the hands of the Bertram family. Over time ownership of the village passed through several families, among them Scrope, Percy, Lisle, Widdrington and finally to the Riddell family, named in the nineteenth century trade directories of the county as principal landowners there. In the thirteenth century the northern barons paid homage to the King of Scotland, Alexander, at Felton. They paid for this reckless deed when King John sent an army north to lay waste to the county. Felton was sent up in flames.
The Anglican church of St. Michaels and All Angels was consecrated in 1199. William Bertram II, who died in 1199, was responsible for this church. Its structure is mainly from two time periods. The first is this earlier twelfth century, and some aspects of it can still be seen. The other is the later fourteenth century, when such features as the aisles were added. There have been other denominations present in the area too; a Presbyterian chapel described as 'handsome' was built on the south side of the river in 1820, and a Wesleyan Methodist chapel, with 110 sittings, was raised in 1891. A Catholic church dedicated to St. Mary was also constructed in 1858, to designs by William Blunt at a cost of £7,000.
The population of Felton grew over the nineteenth century; at the beginning, in 1801, 506 people were given as living there. In 1831 this has increased to 610, and by 1851 the population was reckoned to be 708 people, including 134 inhabited houses and 4 uninhabited. At the end of this century Felton was known to be a good spot for fishing of trout, amongst other types of fish. Felton Mill was noted as one of the finest watermills in the county and the last to be in operation. Felton Feast was a local event; a variety of amusements were put on for local people to contest for prizes, including donkey races, also sack and foot races. There were two annual fairs for the sale of sheep and cattle, held in May and November.
The main road between London and Edinburgh for centuries passed through Felton, and there were many shops, inns, and craftsmen in the area along its route. With the building of a long-awaited bypass, today the village enjoys a much more peaceful aspect.