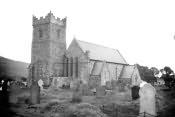 Kirknewton village can be found in north Northumberland, six miles west of Wooler and seventeen miles south west of Berwick-upon-Tweed. The parish it is situated within carries the same name, and several of the Cheviot Hills, including Cheviot itself at 2,676 feet, lie within this parish.
Kirknewton was the centre of the Anglo-Saxon kingdom of Northumbria, with a royal palace and council chambers to be found here. The site is marked by a plaque on the Kirknewton to Wooler road. The plaque also marks the spot where St. Paulinus, on invitation from King Edwin, baptized people in the nearby river. The Anglican church of St. Gregory the Great is the present church, though a Christian place of worship has stood on the site since the eleventh century. The earliest record of the church is in a document dated 1223, and the church's sculpture of the Adoration of the Magi dates from this period. There has been speculation that the Magi are in fact wearing kilts! It was a haven in troublesome times, but was reduced to ruins during the border warfare. In the 1430s the Bishop of Durham licenced the vicar to say Mass in any safe place in the parish. Josephine Butler, champion of social reform for women in the Victorian era, is buried here.
Nearby Coupland Castle was the home of Matthew Culley, the great agricultural reformer who along with his brother George set about improving methods of soil cultivation in the nineteenth century. Stock improvement was carried out too, and this included the production of the Border Leicester breed of sheep.
At the end of the nineteenth century Kirknewton had a station on the Alnwick to Cornhill branch of the North Eastern railway. The Earl of Tankerville was lord of the manor at this time. There was a mixed church school with an average attendance of 45, and the population stood at 68 people.
Kirknewton has traditionally been shepherd's country, but this has declined through the twentieth century. Gamekeeping and tourism are becoming more commonplace in this beautiful part of the county, with walking, gliding and caravanning the most popular pursuits.