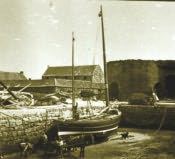 The village of Beadnell can be found in mid-Northumberland, at the edge of the North Sea. It is situated nine miles northeast of Alnwick and eight miles southeast of Belford.
There were in Beadnell's history important coal and lime works in the area. These have been described in the past as 'massive' in the nineteenth century, with many lime quarries and old kilns to be seen by following a line from Beadnell Bay going west. By 1827 however, when Parson and White's Trade Directory for the county was published, these works were noted as being 'discontinued some time ago'. The directory also mentions that races were once run at Beadnell but were moved to Belford in 1826.
St. Ebba is the Anglican church to be found at Beadnell. The present church was built in 1746 and restored in the mid-nineteenth century. It is named for St. Ebba, who was the Abbess of Coldingham and the sister of St. Oswald. Built in Gothic style, it enjoys a striking embattled tower with a single spire. A school was built at Beadnell in 1820 and enlarged in 1883 with the capacity to hold 110 children; by the turn of the twentieth century the average number of children attending was 70. The master of the school in 1902 was Frederick Leak.
Beadnell has always remained a small community; population statistics over time tell us that in 1801 there were 223 people in the village; in 1811 this had risen to 291 people, and in 1901 stood at 308 residents. Today Beadnell is a popular place for visitors who use the bay for a variety of leisure pursuits.