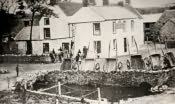 The village of Doddington is to be found in north Northumberland, part of a ring of small settlements that skirt the extensive Milfield Plain. Doddington itself is 3 miles northeast of Wooler and 13 miles southwest of Berwick-upon-Tweed, between two branches of a tributary that meander their way to join the larger Till.
Doddington is thought to be of Anglo-Saxon origin. Its name has various interpretations; one if that it is derived from 'the tun', perhaps of the people belonging to a chieftain called 'Dod'. Another is that the settlement is named after the Celtic Hill 'Dod Law', which rises 654 feet above sea level. There is evidence in the area of this earlier time, including ancient camps and some rock markings. Interestingly, though the roman road called the Devil's Causeway circles the parish boundaries, there are no roman remains of note in the district.
The population of Doddington varied during the course of the nineteenth century; in 1801 there were 339 people residing here. In 1821 this has risen to 419, but by 1851 had fallen to 397. There was an important coal mine in the area, belonging to Messrs. Scott and Gray; in 1884 a new mine was opened, employing 26 people and with a daily output of 12 tons. Fell sandstone was quarried here, a popular building stone. The operation of this quarry continued well into the twentieth century.
The Anglican church of St. Mary and St. Michael is a more recent addition, though it stands on the site of a twelfth century house of worship. In 1826 a watch-house was built within the grounds of the churchyard, manned at night by a guard, to protect the graves from being robbed. Here in the church can be seen memorials to Horace St. Paul, a member of the St. Paul family of Ewart Park, a large home about 1 ½ miles outside the village. Several members of the family are buried in the churchyard. Horace St. Paul was given the honour of Count of the Holy Roman Empire.
These days Doddington is enjoying a revival of fortune, due in part to the success of Doddington Dairy, which sells its cheeses and ice creams throughout the county. It continues to be a small community set in an area of exceptional beauty.