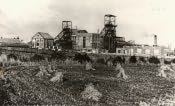 Lynemouth takes its name from being situated on the estuary of the River Lyne - or Line as it was formally known. It was, until 1926, no more than a farm and cottage situated on the south side of the river on 300 acres of land. The township was held in 1240 by John, the son of Robert Rue, and changed hands on many occasions until it became the property of the Atkinson family in 1743 by the marriage of the co-heir to the estate, Jane Watson, to Henry Atkinson of Newcastle.
The village, which was in the parish of Woodhorn, had only four houses and 22 people in 1921. By 1926, with the opening of the colliery by the Ashington Coal Company, Lynemouth had expanded to a township of over 500 houses, several shops, and a population of 2,000. The church of St Aidan was built in 1925. The church was originally a daughter church under Woodhorn, but became a parish in its own right when it was consecrated in 1961. The school opened the following year with a staff of 14. Mr Herron, who had previously taught at Ellington School for 22 years, was transferred to the new school as Headmaster.
The village was given another boost in the 1960s when the Alcan Smelter was built, providing employment for many local people, in addition to using coal from the nearby pits. The Alcan plant remains a major employer in the area today.
Lynemouth became the focus of public attention in 1822 when a spermaceti whale came ashore in the village. It was killed by a harpoon hurriedly made by a neighbouring blacksmith. The whale, which measured 61 feet in length, produced 158 gallons of oil. Its jawbones were used to form an archway to a field near Cresswell Hall.
Sport played a big part in the Lynemouth community, particularly during the 1930s, when the O'Keefe family brought fame to the village. They were six brothers from a coalmining family who boxed their way into the history books. There was Mattie, a welterweight who won trophies in the navy, John, a featherweight who won titles for the West Yorkshire Regiment, and Eddie, a middleweight, who claimed a couple of dozen knockouts in a row. The principal three brothers, Tommy, Pat and Sexton, became professional boxers. Tommy O'Keefe was a pitmen's lightweight champion, who served with the Duke of Wellington Regiment in North Africa, Sicily and Italy, before returning to Lynemouth Colliery as a dust sampler. Middleweight Pat began fighting in earnest at the age of 14, while his brother Sexton [real name Ralph Henry], was a professional flyweight at the age of 15. The brothers once challenged the world to find another six brothers for them to fight - the challenge was never taken up.